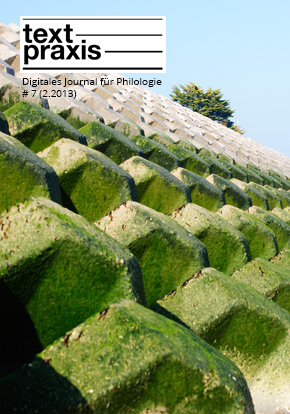 Textpraxis # 7
2.2013
In the current issue, Kirkland A. Fulk analyses Alexander Kluges Die Ungläubige, Peer Trilcke investigates the possibilities of a sociology of literature of the internet and Earl Jeffrey is concerned with the ›digital turn‹ in literary studies. In the ›Debate‹ section, David-Christopher Assmann presents another response article and thus continues the discussion about system-theoretical literary studies.
Editorial
The current issue of Textpraxis features two articles that focus on the ›digital turn‹ in the humanities. Peer Trilcke undertakes a study of the Internet with a literary sociological approach, arguing for an emphasis on empirical research in this rapidly growing field. Earl Jeffrey Richards discusses new avenues for digital philology and demonstrates how digital tools are no longer just for critical editions or larger comparative projects but also considers how these tools function to destabilize the hierarchical structures in literary canons. Though not concerned with digital humanities, Kirkland Fulk's article does raise questions about technological advances in his investigation of how Alexander Kluge's science fiction relates to the critique of capitalism popular during the '68 counterculture movement. Fulk's article not only ventures into the politics of outerspace, it also stands out as our second English-language article – part of Textpraxis's ongoing efforts to bring together scholars from around the world.
As a project of the Graduate School: Practices of Literature, Textpraxis continually profits from new doctoral candidates and their high-level of competency. We are delighted to welcome Martin Stobbe and Nikolas Buck to the editorial team, who both made enormous contributions to this current issue. We would also like to express our deep gratitude to our editor, Pegah Byroum-Wand, who has contributed a great deal of time and energy to the journal. We wish you all the best for your future projects!
In addition to the new and old members of our editorial team, we would also like to thank all those individuals who have contributed and who continue to contribute to Textpraxis's success – not only our reviewers but also our constantly expanding readership. You are always welcome to participate in ongoing discussions and to start new debates through your comments and response articles. In this issue, David-Christopher Assmann continues the debate surrounding the use of system theory in literary scholarship, a scholarly conversation that stems from the very first issue of Textpraxis. Assmann offers a reply here to Oliver Jahrhaus's response article to »Kommunikationszusammenhänge« (Textpraxis # 3). This interactive structure is an essential part of Textpraxis's concept and continues to be utilized, much to our delight.
This trend will hopefully proceed in the next issue of Textpraxis, which will appear on 1 May, 2014. The articles that appear in this issue will surely provide many solid starting points for further discussions. Happy reading!
Your Textpraxis Editorial Team
Imprint
Textpraxis #7 (2.2013) has been published on November 1 2013.
Editorial Team:
Seth Berk
Nikolas Buck
Dominic Büker
Nina Gawe
Gesche Gerdes
Japhet Johnstone
Innokentij Kreknin
Christoph Pflaumbaum
Matthias Schaffrick
Martin Stobbe
Kerstin Wilhelms
Reviewers:
Prof. Dr. Simone Winko (Göttingen)
Dr. Tara Forrest (Sidney)
Haimo Stiemer (Münster)
Cover image: Barry Ephgrave (under this Licence)
ISSN 2191-8236