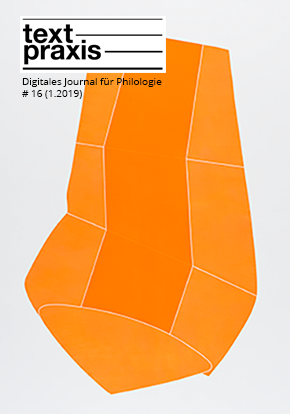 Textpraxis # 16
1.2019
In this issue, Christina Glinik and Elmar Lenhart investigate writing scenes in Josef Winkler's Domra. Sandra Folie discusses new world literature through the lens of intersectionality, while Stefan Tomasek discusses the museal presentation of the Song of the Nibelungs. 
Editorial
In issue #16 of Textpraxis. Digital Journal for Philology, Christina Glinik and Elmar Lenhart use Josef Winkler´s Domra to discusses possibilities of presenting the writing process in prose while demonstrating that the materialities in Domra enable a modeling of the literary writing process. In her article, Sandra Folie argues that neither the literary market nor literary studies are free of class, ethnic, gender, national, racial, and other prejudices. She identifies so-called »inner and outer gatekeepers« to explore to what extent Euro- and Androcentrism are still present in current world literature discourses. Moreover, Stefan Tomasek examines museal presentation and (re-)telling of the Song of the Nibelungs to investigate how the relation of the newly narrated text to the medieval textual tradition is shaped. 
Many thanks go to our external reviewers Theo D'haen from Leuven, Kerstin Klein from Lübeck, and Davide Giuriato from Zurich, for editing and providing critiques to our authors. Many thanks for your time and efforts! 
With this issue, three of our long-term members unfortunately leave the editorial team: Julia Albers, Kerstin Mertenskötter, and Elisabeth Zimmermann. All three contributed decisively and with great engagement to the conception and successful implementation of »Textpraxis« for many years. We would like to thank all of them for their efforts, and we wish them all the best and much success in their future endeavors! 
At the same time, we are happy to welcome Aaron Carpenter (German Studies, WWU Münster), Akshay Chavan (Postcolonial Studies, WWU Münster) as well as Christina Becher (German Studies, University of Cologne) to the editorial board.  
We hope that you will enjoy reading this issue of Textpraxis, and as always, encourage you to submit response articles or provide comments to the newly published articles. 
Your Textpraxis Editorial Team 
Imprint
Textpraxis #16 (1.2019) was published on May 1, 2019.  
Editorial Team: 
Sona Arasteh-Roodsary  
Ina Batzke 
Christina Becher 
Aaron Carpenter 
Akshay Chavan 
Lea Espinoza Garrido 
Thomas Kater 
Kerstin Mertenskötter 
Laura Reiling 
Janneke Schoene 
Levke Teßmann 
Elisabeth Zimmermann 
Reviewers: 
Prof. Dr. Theo D'haen (Leuven) 
Prof. Dr. Davide Giuriato (Zurich) 
Kerstin Klein (Lübeck) 
Cover: Felicia Dürbusch 
ISSN 2191-8236