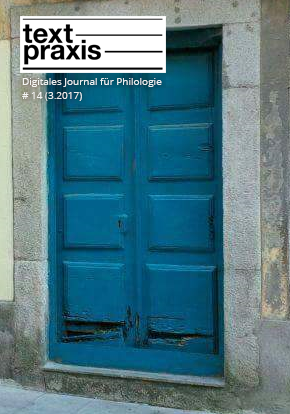 Textpraxis # 14
3.2017
Nicole M. Mueller discusses the opportunities of digital(ized) literary studies by analyzing Japanese translations of Thomas Mann's works. Silja Wendt proposes how intermediality contributes to a performative character of the Sherlock series. In an interview with Cosima Mattner, Ted Underwood shares his experiences with employing digital methods in literary studies.
Editorial
In this fourteenth issue of Textpraxis. Digital Journal for Philology, Nicole M. Mueller investigates German-Japanese leitmotif structures in digitalized translation corpora. By doing so, she illustrates how distant reading opens up new perspectives on the interplay between text-internal narrative structures and historical contexts, which are negotiated in the translations. In her article regarding intermediality in Sherlock, Silja Wendt proposes a reconsidered understanding of materiality and intermedial transmediation, and explores the question of how materiality manifests itself in people's mental representation, eventually considering how materiality relates to cognitive and context-related performance. Finally, in an interview with Cosima Mattner, Ted Underwood, a specialist in the field of digital literary studies, discusses the rising impact of computer-based methods on the study of literature and their relevance for developing new perspectives within it. Particularly the last article hence picks up the continuing discussion surrounding the relevance of digital humanities, which has accompanied Textpraxis since its formation, and which will also be a main focus in forthcoming issues.
Many thanks go to our external reviewers, Martin Roth from Leipzig, Christine Ivanovic from Vienna, and Christine Lötscher from Zurich, for editing and providing critiques to our authors. Many thanks for your time and efforts!
Unfortunately, with this issue, three of our long-term members leave the editorial team: Seth Berk, Lena Hoffmann and Kerstin Wilhelms. All three contributed decisively and with great engagement to the conception and successful implementation of Textpraxis. Particularly Kerstin Wilhelms' influence in the last years has shaped both the functioning of team and the journal, and will leave a lasting impression on Textpraxis. We wish all three all the best and much success in their future endeavors!
At the same time, we would like to welcome Lea Garrido Espinoza as a new member to our team, who has already been a great asset during the creation of this issue.
We hope that you will enjoy reading this issue of Textpraxis, and as always, encourage you to submit response articles or provide comments to the newly published articles.
Your Textpraxis Editorial Team
Imprint
Textpraxis # 14 (3.2017) has been published on November 1, 2017. 
Editorial Team:
Sona Arasteh-Roodsary 
Ina Batzke
Seth Berk
Lea Espinoza Garrido
Jayana Jain
Thomas Kater
Lena Hoffmann
Kerstin Mertenskötter
Martin Stobbe
Levke Teßmann
Kerstin Wilhelms
Elisabeth Zimmermann
Reviewers:
Prof. Dr. Christine Ivanovic (Wien)
Prof. Dr. Martin Roth (Leipzig)
Prof. Dr. Christine Lötscher (Berlin)
Cover: Sona Arasteh-Roodsary
ISSN 2191-8236