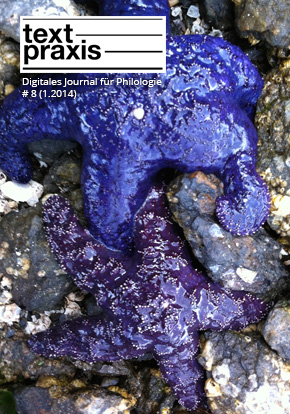 Textpraxis # 8
1.2014
In the current issue, Kai Werbeck addresses the '68 movement, Hans-Joachim Jakob argues for the use of narratological toos in ›Human-Animal Studies‹ and Johanne Mohs looks at literary writing processes. The response article of Jeewon Kim takes up the debate on system-theoretical literary studies.
Editorial
The editorial team is pleased to present you with the eighth edition of Textpraxis. In the category, »Literature and Society«, Kai Werbeck connects his contribution thematically to our previous issue by dealing with the revolutionary space of the '68 movement in the work of Rolf Dieter Brinkmann. In the section, »Theories of Literary Study«, Hans-Joachim Jakob addresses the complex research area of human-animal studies and pleads for the use of narratological tools for future studies. The article by Johanne Mohs opens up new perspectives in the section, »Literary Studies and Practice«. In her article, she discusses literary writing processes and analyzes a metaphorical reference to a writer's block in a novel by Georges Perec.
Textpraxis continues to grow, and we are pleased to welcome five new members to the editorial team. Not only Ina Batzke, Katharina Fürholzer, and Janneke Schöne from the Graduate School Practices of Literature have contributed to the success of the current issue, but also Ana Ilic from the Böckler-Kolleg Literaturtheorie als Theorie der Gesellschaft, as well as Lena Hoffmann from the DFG-funded Graduate School Literarische Form. At the same time, we are sad to say goodbye to Gesche Gerdes and Innokentij Kreknin, and we would like to whole-heartedly thank them for their tireless efforts!
While our editorial team continues to grow and diversify both institutionally and internationally, we also managed to solicit funding for the further internationalization of the journal. We plan to present a completely bilingual (German/English) website when we publish the next issue; also, the dialogue between text producer and recipient will be possible in both languages in the near future.
The active exchange of ideas between scholars via Textpraxis remains successful and continues through the new response article, written by Jeewon Kim. Kim continues to navigate the on-going debate about systems theory, which has been unfolding on Textpraxis since the first issue. We invite you to continue to participate in the existing debates and also to open up new discussions. The next edition of Textpraxis will be published on 1 November 2014.
Finally, we would like to thank all of our contributors, particularly the reviewers for this issue, and we look forward to further collaborations. We wish our readers productive and engaging interactions with the texts.
Sincerely,
The Textpraxis editorial board
Imprint
Textpraxis # 8 (1.2014) has been published on May 1 2014.
Editorial Team:
Ina Batzke
Seth Berk
Nikolas Buck
Dominic Büker
Katharina Fürholzer
Nina Gawe
Lena Hoffmann
Ana Ilic
Japhet Johnstone
Christoph Pflaumbaum
Matthias Schaffrick
Janneke Schoene
Martin Stobbe
Kerstin Wilhelms
Reviewers:
PD Dr. Andreas Trojan (Munich)
PD Dr. Lydia Bauer (Potsdam)
Dr. Andreas Kramer (London)
Iuditha Balint (Mannheim)
Dr. Alexandra Böhm (Bamberg)
Cover image: Seth Berk
ISSN 2191-8236