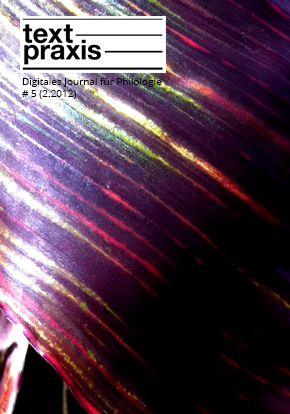 Textpraxis # 5
2.2012
We are making progress! This could be the motto of this fifth issue of Textpraxis, in which three new contributions from the field of contemporary literature enter entirely new themes and theories. Dirk Schulz (Cologne) dedicates his article to issues of gender and queer theory, and therefore presents the first article from Anglophone Studies in Textpraxis. Minu Hedayati-Aliabadi (Dortmund) investigates the hitherto less known lyrical-artistic collage work of Nobel laureate Herta Müller. In the Literature and Practice section, Maria Aparecida Barbosa (Santa Catarina) conducts an interview with writer and theater-maker Theresia Walser. She thereby uses the opportunity to try out different text formats in Textpraxis for the first time.
Editorial
Onward and upward! The fifth issue of Textpraxis shows how we are continuing to develop, exploring new elements and perspectives. In this issue, the social relevance of literature takes on special importance with a focus on women writers and artists and with a lively discussion of questions of sex, gender and identity. Issue #5 also displays the fundamental importance of international cooperation and collaboration for the scholarly debates that the journal features. The most telling evidence for our international development is the growing number of authors and reviewers from abroad. The diversity that their contributions bring to Textpraxis reflects the breadth of methodological, theoretical and thematic emphases in the different philologies that Textpraxis tries to bring out in each issue. Given the growing international reach of the journal, we decided to provide an English translation of our editorial for this edition. This is just the first step in the development of a multilingual version of the Textpraxis website.
Development is also afoot in our editorial board. Since Textpraxis is a project run by doctoral candidates in the Graduate School Practices of Literature, we are used to constant change and the great advantages that come with it, namely always receiving fresh input from new colleagues joining the program. We are very happy to welcome Seth Berk, Dominic Büker und Pegah Byroum-Wand as the newest members of our editorial board. They have helped immensely with bringing the current issue together.
We would also like to give special attention to the people who are most important in making Textpraxis a site for academic discussion, that is our authors and readers. We encourage you again to supplement, criticize and revise the theses and arguments in this issue with commentaries and response articles. With your contributions, we can keep the dialogue going into our sixth issue, which appears 1 May 2013. Let the claims and positions you find in this issue serve as the basis for a scholarly debate. And happy reading!
Sincerely,
The Textpraxis editorial board
Imprint
Textpraxis #5 (2.2012) has been published on November 1 2012.
Editorial Team:
Seth Berk
Dominic Büker
Pegah Byroum-Wand
Nina Gawe
Gesche Gerdes
Japhet Johnstone
Innokentij Kreknin
Christoph Pflaumbaum
Matthias Schaffrick
Kerstin Wilhelms
Reviewers:
Dr. Yvonne Ivory (Columbia, SC)
Dr. Monica Moyrer (Scranton, PA)
Cover image: Seth Berk
ISSN 2191-8236