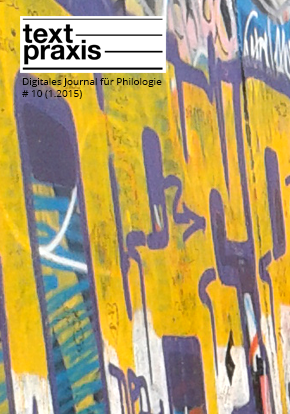 Textpraxis # 10
1.2015
In the tenth issue Mirjam Bitter analyses the German-Jewish dialogue in Bernhard Schlink's Die Beschneidung, Theresa Schmidtke explores pop literature storytelling in writers' blogs and Gerrit Lembke and Ingo Irsigler present their innovative project Vorlesung mal anders.
Editorial
We proudly present you the now 10th edition of our digital journal of Philology. With its three new contributions, this anniversary edition covers a wide range of topics: In the »Literature and Society« section, Mirjam Bitter (Berlin) analyzes the German-Jewish dialogue in Bernhard Schlink's story Beschneidung. In the »Theories of Literary Study« section, Theresa Schmidtke (Rostock) is concerned with the possibilities and limitations of pop-literary narrations in blogs of writers. In the »Literary Studies and Praxis« section, Gerrit Lembke and Ingo Irsigler (Kiel) present their innovative lecture project Vorlesung mal anders.
The Textpraxis team has also grown again. With Constanze Bartsch, Julia Langhof and Irene Husser we welcome three new editorial staff members of the Graduate School Practices of Literature to our team. At the same time, we say goodbye to our long-time editorial staff members Japhet Johnstone and Christoph Pflaumbaum and thank both for their tireless commitment to Textpraxis.
Another thanks goes to the authors and the reviewers who have ensured instructive and worthy contributions by working in close collaboration. Following the principles of Open Access, Textpraxis aims to establish a dialogue between text producer and text recipients. We therefore hope that readers will once again enjoy reading our new issue and invite you to reply to the contributions with comments or detailed replicas.
Your Textpraxis editorial team
Imprint
Textpraxis # 10 (1.2015) has been published on May 1 2015.
Editorial Team:
Constanze Bartsch,
Ina Batzke,
Seth Berk,
Nikolas Buck,
Dominic Büker,
Katharina Fürholzer,
Nina Gawe,
Lena Hoffmann,
Irene Husser,
Ana Ilic,
Julia Langhof,
Martin Stobbe,
Kerstin Wilhelms
Reviewers:
Prof. Dr. Cornelia Blasberg (Münster)
Dr. Innokentij Kreknin (Passau)
Dr. Dominik Orth (Oldenburg)
Cover image: Kerstin Wilhelms
ISSN 2191-8236