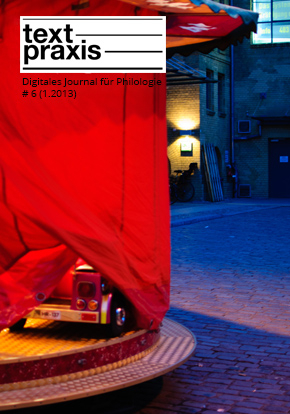 Textpraxis # 6
1.2013
In this current issue, Barbara Mariacher focuses on Elfriede Jelineks poetological concept, Falk Bornmüller examines the epistemological value of literature  based on Shakespeare's Hamlet and Goethe's Wilhelm Meisters Lehrjahre, and Klaus-Michael Bogdal outlines the benefits of ›soft‹ theories for the humanities. In the ›debate‹ section, Klaus Oidtmann and Paul Stadelhofer analyse the economic and philosophical use of competence, based on Jürgen Gunia's article in Textpraxis # 4.
Editorial
Textpraxis continues to reflect upon the role of literary studies by interrogating its potential for political and social critique. The diverse perspectives presented by the articles in Issue #6 attest to this premise from the philosophical analysis of Goethe's »Wilhelm Meister's Apprenticeship« to the questions of authorship in the work of Elfriede Jelinek. In addition, Klaus-Michael Bogdal's lecture on the merits of ›soft‹ theory in literary studies further touch upon concerns about the critical potential of literary studies, as does the response article on the concept of ›competence‹ as discussed by Jürgen Gunia in Textpraxis # 4. Textpraxis specializes in bringing together studies that examine this engagement of and with literary and cultural productions, paying particular consideration to connections between the literary and the social, the theatrical and the epistemological, and the textual and the economic.
As Textpraxis continues to grow, we look for ways to engage with more scholars world-wide. Part of this effort involves increasing the ›findability‹ of our articles. For instance, a Google search for »Raabe Moderne Diskurs« will lead you straight to Natalie Moser's 2010 article. We also turn up on searches performed using World Cat, and our articles are additionally listed with the DOAJ (Directory of Open Access Journals). We look forward to appearing in the BDSL and the MLA catalogues soon, as well!
As always, in the spirit of open-access, Textpraxis provides a forum for dialogue between authors and readers. In order to facilitate this dialogue, each article has a comments section that allows for readers to share ideas or connections immediately. Textpraxis also encourages readers to submit longer and more detailed response to an article, such as the response by Klaus Oidtmann and Paul Stadelhofer in this issue. We hope that you will take advantage of these opportunities and contribute to the conversation.
Lastly, the editors would like to thank Fabian Pommerenke for all his motivation and hard work as Textpraxis's first intern.
Happy reading!
Sincerely,
The Textpraxis editorial board
Imprint
Textpraxis #6 (1.2013) has been published on May 1 2013.
Editorial Team:
Seth Berk
Dominic Büker
Pegah Byroum-Wand
Nina Gawe
Gesche Gerdes
Japhet Johnstone
Innokentij Kreknin
Christoph Pflaumbaum
Fabian Pommerenke
Matthias Schaffrick
Kerstin Wilhelms
Reviewers:
Dr. Jeanine Tuschling (Klassik Stiftung Weimar)
Sebastian Meixner, M.A. (Tübingen)
Cover image: Christian Schmitt
ISSN 2191-8236