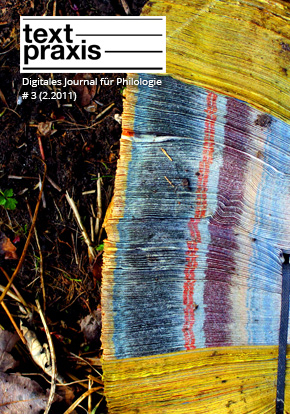 Textpraxis # 3
2.2011
This issue of Textpraxis was opened by two response articles, in which David-Christopher Assmann (response article 1) and Oliver Jahraus (response article 2) proceeded the debate on potential and limitations of system-theoretical literary studies. In the section-articles, Beatrice Nickel reflects on poetic objects in urban areas, Nora Berning analyzes the construction of authenticity in literary online reportage and Sonja Lehmann deals with the principle of ›alienation‹ in the permanent exhibition  of the Literaturmuseum der Moderne.
Editorial
The third issue of Textpraxis shows that the space we created for interaction between scientists is actively used meanwhile. The first comments and response articles are published. Oliver Jahraus and David-Christopher Assmann started a debate on the current stand of system-theoretical literary studies. Starting point for this response article was Dominik Schreiber's contribution in Textpraxis # 1 as well as Jörg Schönert's comment on this article. We invite further contributors to continue the discussion with critical annotations and comments.
The articles of the authors of our third issue are up for discussion as well. These three new articles deal in different ways on the one hand with presentational forms of literature and on the other hand with literary presentational forms across multiple media. Together with the authors we are sure that the articles hold a rich potential for further comments and debates.
Textpraxis originated out of an initiative of doctoral candidates in the Graduate School Practices of Literature at the University of Münster. To guarantee the continuance of our project, the editorial team around Gesche Gerdes and Kerstin Wilhelms has grown bigger. With Japhet Johnstone, also a new colleague in the editorial team, our journal is supposed to become even more attractive and wider receivable through translation into English in the future. The first contribution in English by Nora Berning from London (Canada) in the third issue already indicates a positive tendency and shows that due to its digital format Textpraxis will be recognized as an internationally operating scientific platform and will be able to use the advantages of digital publishing in the future.
Again it is necessary to thankfully acknowledge the reviewers of this issue, who – in cooperation with the authors – worked at the texts in intensive correction steps and therefore help to guarantee the quality of the third issue of Textpraxis. We would like to thank Constanze Breuer, Nikki Hessell and Christoph Kleinschmidt.
We look forward to a productive cooperation in the future!
Your Textpraxis Editorial Team 
Imprint
Textpraxis # 3 (2.2011) has been published on November 1 2011.
Editorial Team:
Nina Gawe
Gesche Gerdes
Till Huber
Japhet Johnstone
Innokentij Kreknin
Christoph Pflaumbaum
Christina Riesenweber
Matthias Schaffrick
Kerstin Wilhelms
Reviewers:
Dr. Constanze Breuer, Martin-Luther-Universität Halle-Wittenberg
Dr. Nikki Hessell, Victoria University of Wellington (New Zealand)
Dr. des. Christoph Kleinschmidt, Goethe-Universität Frankfurt/Main
Cover image: Christian Schmitt
ISSN 2191-8236